TeamFund has been helping local teams, schools and groups efficiently raise funds online. 
Since 2014, we've helped raise over 350K here in Alberta for various causes.
Our market expertise and vendor partnerships allow you to optimize your campaign all while offering quality products from trusted local vendors.
Raising funds for your group is now simpler, less time consuming and error proof. 
Save your time, raise funds online with TeamFund.ca: It's like putting your fundraiser on the fast track!
Getting started is simple!  Once you're signed up, your task will be reduced to promoting the fundraiser to sellers and monitor your sales.
5. They Invite Supporters

Some Features You'll Love
Multiple or Single Vendor Campaigns
Detailed & Granular Reporting
Real Time Sales & Seller Engagement
Custom & Unique Webpage
Why you'll love working with TeamFund
Fundraising Platform leads to Successful Event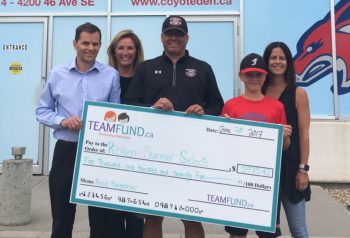 Get Started with TeamFund
See for yourself why more and more groups are turning to TeamFund